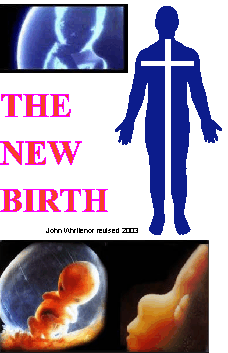 John Whritenor · revised 2003
SPIRITUAL REALITY OR RELIGIOUS FAD?
—THE SEARCH—
Many people are lost, living disillusioned lives. Some are not even sure there is anything worth living for. The question arises, "Is there anything that can satisfy the deep, inner longings of my soul?" They may not even know how to articulate their sense of need. Some have attempted to fill the void in their hearts through alcohol, drugs, and sex. Others have tried to remedy their emptiness with material possessions: a newer car, a bigger house, the latest high-speed computer, or "enough" money; still others have looked for their ultimate fulfillment in careers, families, hobbies, personal challenges in athletics, or other ego satisfying activities. The common denominator with these people is that they are all trying to find something for their lives that only God can provide.
Then there are those who seem content with their lives, no longer consciously searching for more. Some have found peace in a simple, structured life, others in the activities and formalities of religion. Although they may believe in God, they probably don't know Him personally nor do they expect Him to be active in their lives. But I believe that there is also a God-given longing in their hearts to find and know Him intimately. It may be surpressed by pride, the formalities of religion, or indifference, but it is there.
What's the deep cry in your heart? What is it you are searching for? Peace? Contentment? Happiness? Security? A life with new meaning? Seeking these things in the midst of the darkness and evil of today's world can be a difficult trek that can end in disappointment, sadness, and even death. Or it can be an exciting quest that can lead to great joy and life. I hope this article will help you find the path to great joy!
You may already be knowledgeable to some extent with my subject. However, I cannot address the concept of "being born again," and why it is so important to many Christians, apart from a Biblical foundation. God gave us the Bible so that we might know Him and what He requires of us. Without this book, our understanding of God and truth is limited by our human intellect and desires, our unpredictable emotions, and our ever present egos. On the other hand, through faith and the study of Scripture, we can come to know God personally and discover what He defines as truth. When we consider the ungodly acts of the Islamic terrorists on September 11th, or Hitler's Nazis who perpetrated the holocaust, or priests who sexually abuse children, or individuals like Charles Manson, it is easy to see how man, when left to his own devices, can pervert the moral absolutes of right and wrong.
Christian faith is made possible by the grace of God. By His grace, we believe that God is revealed in His Son Jesus Christ1 and in the Bible, His word of faith and practice. He has lavished His grace upon us because of His mercy toward us, and His desire is to forgive us and call us His own people.2 How amazing it is that He loved us even when we were disobedient and had chosen many ways of living that deny Him! 3
The importance of the Bible to our search for truth is summed up by Paul in his second letter to Timothy:
All Scripture is given by inspiration of God, and is profitable for doctrine, for reproof, for correction, for instruction in righteousness, that the man of God may be complete, thoroughly equipped for every good work.
2 Timothy 3:16-17
The importance of believing in Jesus is captured in the following statements by Jesus Himself:
"I am the way, the truth, and the life. No one comes to the Father except through Me."....."No one can come to Me unless the Father who sent Me draws him."...."He who does not honor the Son does not honor the Father who sent Him." John 14:6; John 6:44; John 5:23
Before we look at how we can come to Him, let's consider the main characters in this drama of life and death as the Bible reveals them: God, Jesus, and me.
—WHO IS GOD?—
Who is the God of the Bible? He is the Creator of the universe.4 He is omnipotent5 (all powerful), omnipresent 6 (everywhere at all times), omniscient (has all knowledge), without beginning or end, and is perfectly holy and righteous. He is the judge of all men; one who can condemn the unrighteous to Hell.7 Yet He desires that all men would be saved 8 and has made a way through the death and resurrection of Jesus Christ so that men might come to Him and know Him. He is the Father who loved us enough to give His own Son to die for us, and His desire is that we respond to His love and come to Him on His terms:
God so loved the world that He gave His only begotten Son, that whoever believes in Him should not perish but have everlasting life. For God did not send His Son into the world to condemn the world, but that the world through Him might be saved. He who believes in Him is not condemned; but he who does not believe is condemned already, because he has not believed in the name of the only begotten Son of God. John 3:16-18
—WHO IS JESUS? —
Who is Jesus? And why was His death the only sacrifice sufficient to make us right before God? The answer lies not in the act of crucifixion (many died in that manner at the hands of Rome), but is found solely in the identity of the One who died on the cross. Jesus was a son of man and the Son of God. He was fully man because He was born of a woman; He was fully God because He was conceived by the Holy Spirit,9 His mother being a virgin. He was tempted in every way as we are, but without sinning.10 Because of His perfect life, because He was without spot or blemish, He was the only sacrifice fully acceptable to God to take our place before Him.11 He ransomed us by giving His life to pay the penalty for our sins, cleansing us from all unrighteousness and making us right with God:
For He made Him who knew no sin to be sin for us, that we might become the righteousness of God in Him...For by one offering He has perfected forever those who are being sanctified (made holy). 2 Corinthians 5:21; Heb 10:14
—WHAT ABOUT ME? —
What about you? What about me? Is my condition such that I needed Him to die for me? The Bible teaches that by nature I am a sinner. I tend to be selfish and self-centered. Too often, I don't love others as I should. I lie to protect myself, strike out when I am hurt or feel threatened, and am impatient when things don't go my way. Today's societies (and unfortunately even some churches too) do not subscribe to the Biblical understanding of man being inherently sinful, but maintain that man is basically good. But if people are basically good, then Jesus didn't really need to come and die for us; all that would have been needed is that we try to live a good life. The result of this thinking is that people lose sight of the very solution God has provided for their "lostness," their separation from Him. They define their world without seeing the necessity of knowing God and believing in Jesus.
Is man inherently good or evil? Which view of the world do you want to stake your life on? God's or man's? Personally, I'll take my stand on God's. Paul captures God's perspective in the following passages:
There is none righteous, no, not one; there is none who understands; there is none who seeks after God. They have all turned aside.... there is none who does good, no, not one. Their throat is an open tomb; with their tongues they have practiced deceit; the poison of asps is under their lips; whose mouth is full of cursing and bitterness. Their feet are swift to shed blood; destruction and misery are in their ways; and the way of peace they have not known. There is no fear of God before their eyes.... all have sinned and fall short of the glory of God, being justified freely by His grace through the redemption that is in Christ Jesus. Romans 3:10-18, 23-24 (Note: Justify means to declare righteous or make right with God. Redeem means to pay the ransom to free us from the power of sin. See the last sentence on page 3.)
Paul states his case quite clearly. He makes a number of very strong statements. Many would argue that each statement applies in varying degrees to different people and that there are not many, if any, to whom all apply. However, when you consider people like the radical Muslim terrorists or the Nazis, it is easy to see that they can all apply at least to some people. But what would we see if we could look into people's hearts (including our own) as God can? I believe that we would find that all people would fit the above description given the right circumstances. However, comparing some people with others and trying to fully understand the culpability of each is fruitless. The heart of Paul's theology is that no one is good enough to be acceptable to God on his or her own merits, no matter how hard they try or how well they do. God is perfectly holy and we are unrighteous sinners, imperfect in our best attempts at righteousness. God created Adam in His image and gave him the capability to obey Him. Adam disobeyed in the one thing he was told not to do. He ate from the forbidden tree. Just like Adam, as soon as we were able to choose, we blew it and made many wrong choices. We have corrupted what God created and called good. We chose to go our own way rather than God's way, and, because of our resultant selfish nature, we are not worthy to be accepted in God's presence. Not one of us!
—GOD'S PLAN —
In spite of our many sins, God still loved us so much that He provided a way to bring us back to Himself. His plan from before the beginning of time was to send Jesus, His only begotten Son, to live on earth and experience the same kinds of trials and difficulties we face. Then, although He was sinless and had done nothing deserving punishment, He was spat on, ridiculed, beaten, bloodied with a crown of thorns, and finally crucified for us12 so that He might become our righteousness. One line in a particular song we sing in our church captures His crucifixion poetically, "My eyes are looking upward and behold I see, a humble Man upon a cross from whose side blood flowed for me." Although He died on that cross in great pain, He had a joy in His heart because He knew that His act of love would reconcile us to God and cleanse us from all sin.13 When He took the sin of the world upon Himself, He became so identified with sin that, as the Bible says, "....He made Him who knew no sin to be sin for us, that we might become the righteousness of God in Him." When Jesus died on the cross, sin died and its power was broken for all who would believe in Him.
Because of what He suffered, He became our advocate with the Father. He can sympathize with our weaknesses and all of the difficulties we face on earth. Like many of us, He was misunderstood; 14 like some of us He was rejected by His own people,15 and in time of great need, deserted by most of His close friends.16 We can always go to Jesus, knowing that He will understand whatever we are going through, no matter how difficult our trial might be.
—HOW DO I COME TO HIM? —
So where does "being born again" come in? Let's look again at faith, for without faith it is impossible to please God.17 What needs to happen in my life for faith to bridge the great chasm that exists between a sinful individual like me and this holy, righteous God?
"The word is near you, in your mouth and in your heart" (that is, the word of faith which we preach): that if you confess with your mouth the Lord Jesus and believe in your heart that God has raised Him from the dead, you will be saved. For with the heart one believes unto righteousness, and with the mouth confession is made unto salvation. Romans 10:8-10

If we say that we have fellowship with Him, and walk in darkness, we lie and do not practice the truth. But if we walk in the light as He is in the light, we have fellowship with one another, and the blood of Jesus Christ His Son cleanses us from all sin. If we say that we have no sin, we deceive ourselves, and the truth is not in us. If we confess our sins, He is faithful and just to forgive us our sins and to cleanse us from all unrighteousness. If we say that we have not sinned, we make Him a liar, and His word is not in us. 1 John 1:6-10
The passage from Romans says that to come to God we must believe in our hearts in the person of the Lord Jesus and in the fact that God raised Him from the dead. Then, we are to confess that He alone is our Lord and Savior. The result of this process is that we are saved by faith and receive eternal life. The passage from John states that we are cleansed and made righteous before God by the blood of Jesus, and thereby fully accepted in His presence. Without the historic act of Jesus at Calvary and the living presence of Jesus through the Holy Spirit, all are sinners who have no relationship with God. John also says that if we deny our sins, we are liars, deceive ourselves, and the truth is not in us.
—AT LAST, THE NEW BIRTH! —
Yet the above verses say nothing about the new birth or "being born again." Where does this experience come in? Consider how the next passage fits with these Scriptures:
Nicodemus, a ruler of the Jews.... came to Jesus by night and said to Him, "Rabbi, we know that You are a teacher come from God; for no one can do these signs that You do unless God is with him." Jesus answered and said to him, "Most assuredly, I say to you, unless one is born again, he cannot see the kingdom of God." Nicodemus said to Him, "How can a man be born when he is old? Can he enter a second time into his mother's womb and be born?" Jesus answered, "Most assuredly, I say to you, unless one is born of water and the Spirit, he cannot enter the kingdom of God. That which is born of the flesh is flesh, and that which is born of the Spirit is spirit. Do not marvel that I said to you, 'You must be born again.'".... For God so loved the world that He gave His only begotten Son, that whoever believes in Him should not perish but have everlasting life. John 3:1-7, 16
Jesus ignored Nicodemus' statement that He was a teacher sent from God and went right to the heart of why He had come to earth. Unless we are "born again" (ie., born of the Spirit or born from above), we cannot see or enter the Kingdom of God. When we are born again, we can enter God's Kingdom, come into His presence, and receive eternal life. So that must mean that "being born again" and being saved are addressing the same thing. In both, we must believe in Jesus, in His death and resurrection, and confess our faith in Him as our Lord and Savior. These are the basic requirements listed in Romans 10.
"Being born again" is a spiritual birth, not a physical rebirth. A new life is born within us. Paul makes it clear in the following passage that this spiritual birth results in Jesus coming to live in us:
I have been crucified with Christ; it is no longer I who live, but Christ lives in me; and the life which I now live in the flesh I live by faith in the Son of God, who loved me and gave Himself for me. Galatians 2:20
Is "being born again" a human idea? No. Jesus was the one who established this concept. It is not only a Baptist experience or a Methodist experience or a Lutheran experience or the unique experience of any other denomination. It is God's way of describing for all of us the process of becoming His child. Why did God specifically put this experience of salvation by faith into such human terms by using the word "birth?" Wouldn't the passages from Romans and 1 John have been sufficient to define our salvation? I believe that He wanted us to know that to come to Him requires something completely new in us. Something that wasn't there before and could only come by His intervening in our lives. It is not just a make-over of a man or a woman. Reforming is not enough; we must be regenerated. We are to become a new creation. We were ushered into this life on earth through a miraculous physical process called birth. Similarly, we dramatically enter into God's kingdom by a wonder-filled, supernatural, spiritual process called "being born again." A baby in the womb is unaware that it lives in darkness and cannot see life in the outside world. It only becomes aware of the world after it is born. Similarly, we live unknowingly in darkness and cannot see or know God or His truth until we have this spiritual encounter with Jesus. Without the new birth we can know there is a God through His creation and the testimony of those who know Him, but we can not know Him in an intimate relationship. Paul emphasizes the newness aspect of our salvation when he wrote:
Therefore, if anyone is in Christ, he is a new creation; old things have passed away; behold, all things have become new. 2 Corinthians 5:17
—WHAT IS SALVATION? —
I'd like to briefly describe the salvation that God freely gives us when we become His new creation. It involves living with Him forever and begins the minute we are born again. In the new birth our hearts are opened to a deeper understanding and an intimate experiencing of the love of God. His presence with us can become a daily reality and we can know that Jesus lives within us. We are completely forgiven, made righteous, and loved beyond any human measure. We can be undergirded with His joy in all circumstances. In addition, God's plan is that all things which happen to us in this world will work together for good in our lives, and we will be changed and daily conformed into His likeness by the work of the Holy Spirit:
...all things work together for good to those who love God, to those who are the called according to His purpose. For whom He foreknew, He also predestined to be conformed to the image of His Son, that He might be the firstborn among many brethren. Moreover whom He predestined, these He also called; whom He called, these He also justified; and whom He justified, these He also glorified.... We all, with unveiled face, beholding as in a mirror the glory of the Lord, are being transformed into the same image from glory to glory, just as by the Spirit of the Lord. Romans 8:28-30; 2 Corinthians 3:18
By "being born again" we can know with certainty that we are children of God, heirs with Christ in all that is God's, and destined to be with Him for eternity. What a wonderful and glorious experience it is to walk with God every moment of every day and realize that nothing can separate us from Him or His love, not even death!!
Who shall separate us from the love of Christ? Shall tribulation, or distress, or persecution, or famine, or nakedness, or peril, or sword?.... No, in all these things we are more than conquerors through Him who loved us. For I am persuaded that neither death nor life, nor angels nor principalities nor powers, nor things present nor things to come, nor height nor depth, nor any other created thing, shall be able to separate us from the love of God which is in Christ Jesus our Lord. Romans 8:35-39
—WHAT SHALL I DO? —
If you believe that what I have written is true and want to respond, then you are like the people who heard the very first gospel message.18 Their hearts were moved and they were thoroughly convinced by the words of Peter the apostle. They then asked, "Brethren, what shall we do?" Peter responded, "Repent, and let every one of you be baptized in the name of Jesus Christ for the remission of sins; and you shall receive the gift of the Holy Spirit."
If your first question is the same as that of Peter's audience, I strongly urge you to talk with God about your life. He wants to hear from you. Tell Him that you know you are a lost sinner and you really need Him. Ask Jesus to forgive your sins and come into your heart. Believe that He will do so. He is true to His word and will forgive you, cleanse you from all unrighteousness, and take up residence in your heart. Then as soon as possible, tell someone about what you did and ask another born-again Christian about water baptism.
—THE BEGINNING! —
God loves you beyond measure! To experience His love in all its wonder, it is crucial that you maintain throughout your Christian life a willingness to fully yield your life to Him. It is also very important that you consistently spend time with Him in prayer and Bible reading, and regularly attend a church that teaches the Bible as the inerrant word of God so that you can grow and mature in your new life. Fellowship with God and other believing Christians is essential to nurture your new faith.
You may have questions about God, the salvation He offers through the death and resurrection of Jesus, water baptism, and the nature and present operations of the Holy Spirit. You may also wonder about the changes you begin to notice in your life and the way you think. Don't be too shy to ask mature Christians about all these things and about other aspects of your new faith or the struggles you may be experiencing. You have much to learn! You may already hold some concepts of what God is like. The Holy Spirit will gently change many, if not all, of them.
—THE JOURNEY —
You have just started on a wonderful journey with Jesus. It may not always be easy, but He will be your best friend and constant companion. He will open your heart as you walk with Him and begin to reveal to you more of the nature of His Father. He will also open the Scriptures to you in ways that you have never imagined! Finally, He will bring fulfillment, satisfaction, and joy to your life for He designed you to be filled only with Himself. Enjoy your new life with Jesus! It will be wonder-filled!!
Much of what I have written expresses my understanding of the Bible. I have listed below the Scripture references I used in writing this tract so that you can explore in greater depth the subjects I have discussed and let the word of God speak to your heart:
All quoted Scriptures are from the New King James Version of the Bible.
| | | |
| --- | --- | --- |
| 1 - Ephesians 2:8-10, Colossians 1:15-20, 2:9 | 7 - Luke 12:5 | 13 - Hebrews 12:2 |
| 2 - Ephesians 1:3-8 | 8 - 1 Timothy 2:3-4 | 14 - John 6:60-66 |
| 3 - Romans 5:8 | 9 - Matthew 1:20-23 | 15 - Matthew 13:57, 58, John 1:10-12 |
| 4 - Genesis 1:1 | 10 - Hebrews 7:26-28 | 16 - Matthew 26:56 |
| 5 - Hebrews 1:1-3, Jeremiah 32:17 | 11 - Hebrews 7:26-28 | 17 - Hebrews 11:6 |
| 6 - Psalm 139:7-10 | 12 - Matthew 27:27-35 | 18 - Acts 2:12-39 |
| | | |
Contact John Whritenor, 4 Garden Court, Saugerties, NY 12477, Tel 845-246-1719
Email, JOHN WHRITENOR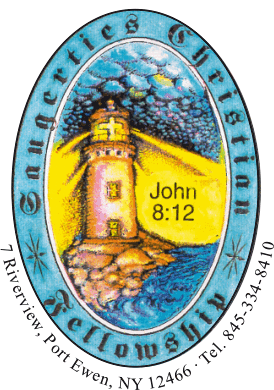 This literature is available on a free-will offering basis.
You may receive additional copies by writing to Saugerties Christian Fellowship.
There are no copyright restrictions.