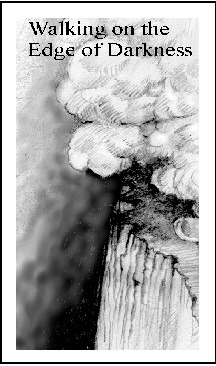 DO WE ALWAYS LEARN FROM OUR MISTAKES?
Part 2 of "Walking on the Edge of Darkness" Series
(See parent tract for background.) by John Whritenor
Someone once said, "If you don't make mistakes, you aren't doing anything worthwhile!" This statement is often true. People who are so concerned about being wrong that they are bound up by their fears probably won't achieve much that is meaningful. Making a mistake when trying something new can be a valuable experience, if it is handled right. It is not enough just to be willing to acknowledge and accept our errors when things go wrong, but that is a good place to start. During my years as an engineer and manager at IBM, I observed that people in engineering design could only be consistently creative if they were not afraid to make mistakes, and were also willing to learn from them. It was not enough just to recognize that they had erred and then say, "I'll never do that again." Rather, they needed to examine why they had failed, figure out how they could avoid doing the same thing again, find ways to com-pensate for or strengthen their weak areas, and, if possible, let others evaluate their plans. Usually the people who could help them the most were those with experience who were either not limited by the same weaknesses or else had overcome them.
When we err in a decision because of emotional or moral weakness, sin is usually close at hand. So is Satan. He prowls like a roaring lion seeking to devour us through our weaknesses (1 Peter 5:8). He often begins by bringing temptations into our path through an enticing situation or a seductive person. If we fall and then think we can learn from our failures without recognizing and repenting of the sin involved, our "learning" will be fruitless. It is often necessary to ask the Holy Spirit to search our hearts and reveal areas of unrighteousness. The root of our problems can be hidden sin that only God can see. Sometimes though, we don't want to acknowledge, even to ourselves, that our reason for acting in certain ways is sinful simply because we enjoy our sin. (Psalm 19:12).
I knew a man, who after being caught in adultery, admitted that he had a weakness for other women. But he left it there. Although he was sorry for what he did (either because he got caught or he didn't like the problems that resulted from his affair), he never truly repented. He was content to accept his sin as "only a weakness for women." He ruined his first marriage and also his subsequent marriage to his co-adulterer in the same way because of his "weakness." He failed to face his sin!
King David also had a "weakness" for another woman, Bathsheba, who was the wife of another man, Uriah the Hittite. David's desire to have her was so great that he had Uriah killed, without facing his sin (2 Samuel 11:2-5; 14-17). He finally recognized what he had done and repented when the prophet Nathan showed him his sin (2 Samuel 12:1-15). His sincere repentance is apparent in Psalm 51, which he wrote after the confrontation. He pointed to his sin seven times:
Have mercy upon me, O God, according to Your lovingkindness; according to the multitude of Your tender mercies, blot out my transgressions. Wash me thoroughly from my iniquity, and cleanse me from my sin. For I acknowledge my transgressions, and my sin is always before me. Against You only have I sinned, and done this evil in Your sight. (Psalm 51:1-4)
Paul, the apostle, had a weakness, a "thorn in his flesh," through which he learned humility and saw his need for the grace of God (2 Corinthians 12:6-10). Like Paul, we need to rely on God's grace, especially when we are prone to moral and emotional weaknesses. If we will humble ourselves before Him and before those He has placed in our lives to shepherd us, we can receive Godly input and guidance. Such correction may need to be long term to guard us when we are tempted. The Holy Spirit will lead us to repentance when sin is involved. Godly counsel from others should always point us to repentance. Being sorry for what happened because of our weaknesses is not sufficient. Sorrow alone doesn't change our hearts. Godly grief, a mourning that regrets sinning against God, produces repentance which leads to life and can bring change into the depths of our hearts (see Psalm 51:4 above and the passage below). Worldly sorrow, involving only disappointment for having been weak again, can bring death. Therefore, if we follow counsel that does not emphasize repentance, we will probably fall again.
For godly sorrow produces repentance leading to salvation, not to be regretted; but the sorrow of the world produces death. (2 Corinthians 7:10)
The people we allow to speak into our lives should not be enablers who, often with good and loving intentions, try to encourage us by saying that everything is OK when it really isn't. Rather than helping us, they can "enable" us to continue our wrong behavior. They can easily reinforce our bad choices instead of helping us overcome the sin that causes them (including not trusting God's provision for all aspects of our lives). Enablers often have problems similar to ours and believe that they can understand what we are going through because of their experiences. Maybe they can sympathize with us. But are those who have not found victory over their own problems the best source of advice? We need people who can objectively and lovingly help us face our sin and find God's grace to change. If we look, we will find that He has placed such people in our lives. Without quality counsel from others and sensitivity to the Holy Spirit in our hearts, we will not change. Instead, we will continue to "walk on the edge of darkness" not having learned from our mistakes.
Contact John Whritenor, 4 Garden Court, Saugerties, NY 12477, Tel 845-246-1719
Email, JOHN WHRITENOR