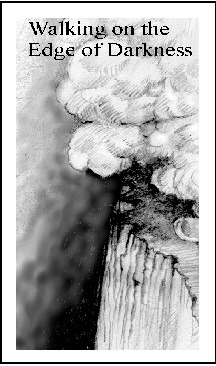 ATTACKING WEAKNESS
A WINNING STRATEGY?
Part 1 of "Walking on the Edge of Darkness" Series
(See parent tract for background.) by John Whritenor
A winning strategy in any struggle for supremacy is to find our enemy's weakness and attack it. Con men prey upon human pride and greed in order to hook their victims. Governments establish lotteries to appeal to people's lust for wealth in order to fatten state coffers. Politicians often learn how to "push the right buttons" to elicit damaging, inflammatory remarks from their opponents. It is certain that Satan does not miss such motivation in his efforts to undermine God's kingdom.
Satan tried to find a weakness in Jesus by tempting Him in the wilderness (Matthew 4:1-11). After Jesus spent 40 days and nights without food, Satan was certain he had a good weapon. He probably thought, "Surely a way to this man is through his stomach." When that failed, he attacked Jesus' identity as the Son of God. After all, had not pride been Satan's downfall (Isaiah 14:12-15)? Again he failed. His third try was to tempt Jesus by promising Him position, power, and possessions. But this was totally unsuccessful. Satan thought he had finally won when he turned the Jewish leaders and the multitudes against Jesus, resulting in His crucifixion (Matthew 27:1-2; Luke 23:1-5; 13-33). Satan has been sorry ever since for trying that one!
God allowed Satan to take a similar approach with Job and with Peter as well. (While he had some success with both, they were victorious through God's grace.):
The Lord said, "Simon, Simon! Indeed, Satan has asked for you, that he may sift you as wheat." (Luke 22:31-32)
The Scripture below expresses Satan's major goal, our destruction:
Be sober, be vigilant; because your adversary the devil walks about like a roaring lion, seeking whom he may devour (lit.- gulp down). (1 Peter 5:8)
The question arises, "How does Satan devour God's people?" Seeking to provoke Christians to look for and then attack weaknesses they see in others is one way. Satan loves to stir up trouble in relationships. He uses gossip and slander to expose people's faults. The Bible encourages us to use words that edify and impart grace (Ephesians 4:29-32). Gossip and slander do neither. Usually gossip can't be judged because the victim is unaware of the attack. Leaders especially can be undermined by such assaults. God requires evidence from two or three witnesses before any charge is brought against an elder. This constraint is to prevent any weakening of the church through unsupported attacks on the leadership (1 Timothy 5:19).
Where better can Satan use this strategy than to undermine marriage, the basic building block of society and the church? When he assails a marriage, his intent is not only to destroy the marriage, but the children involved and the church as well. He has used easy divorces, homosexuality, abortion, and elements of the women's liberation movement to tear down marriages from the outside. But his primary strategy is to destroy marriages from within. A husband and wife were created to be naked and unashamed before each other, emotionally as well as physically (Genesis 2:24-25). Married couples are to be open and honest in their strengths and their weaknesses. Such openness is relational vulnerability and can be both a weakness and a strength. It is a strength because it enhances marital oneness. However, it can also make married couples susceptible to the attacks of Satan. Intimate personal knowledge of this kind can be used as a weapon. When people are threatened in marital arguments, particularly in the areas of their egos and security, they may react by attacking. They focus in on a perceived crack in their spouse's defenses. In other words, they look for a flaw that will leave defenseless the one who has caused them so much pain. This turns the spotlight from themselves to their spouse, especially if the attack is emotionally overwhelming. Does this sound like a winning strategy? Perhaps it will win an argument, but only at the expense of doing great damage to the one who should be your best friend. When we win in this way, we lose big time! We can shatter affection, intimacy, and trust. When we withdraw from being open, we can destroy the love and the special oneness that God wants in marriage. The pain from such attacks will often outlast the disagreement. Satan cheers! God weeps. It should not be this way! Married couples must make such practices off-limits. Attacking weaknesses in each other is the strategy of Satan and is not to be ours (unless we are attacking evil). We should NEVER allow him to use us to attack others, especially in their weaknesses. Love is to be our winning strategy. We are to war against principalities and powers, not against those who fail us, hurt us, or expose us (Ephesians 6:12).
In addition, we must recognize and admit our own areas of emotional, mental, and moral weaknesses. We must repent whenever we fail God in these areas and also fail to receive His grace to help us overcome. We should actively strengthen the frail areas in each other through study of God's word, prayer, and counseling. After all, our common goal is for each of us to find God's grace to stand without retaliating when threatened (Hebrews 10:24; 12:12). Pride will keep us from stepping into the light and revealing our weaknesses to others, especially those responsible to shepherd our lives. Healing will only occur when we allow the light of Jesus to shine into our innermost being to dispel the darkness in us (John 3:20-21; 8:12).
If we don't seek His grace together to strengthen our weaknesses and then purpose never to use another's weakness against them, we will begin "walking on the edge of darkness" and our relationships will be no better than those in the world.
Contact John Whritenor, 4 Garden Court, Saugerties, NY 12477, Tel 845-246-1719
Email, JOHN WHRITENOR